The best selling Ribbon
Printer in the world.
Print in any language
print any design
Now works with Windows 8.1 too!
Certification
CE, FCC Class B, CCC, CB
Treat yourself to a
ZX-40 Ultra Ribbon Printer
this Christmas!
Printing personalised ribbons has never been easier, thanks to the very latest ribbon printer on the market, the ZX-40 Ultra. The ZX-40 Ultra is available exclusively from Creative Printers of London.


There's a big market for personalised ribbons

The demand for a ribbon printing service is huge and growing all the time. For example, personalised ribbons are in demand for gift items, chocolates boxes, parties and celebrations, weddings, florists, birthdays, baby showers, hamper baskets ... plus sashes for hen nights, 'grand opening', in-store promotion (worn by staff), small banners etc. Such is the demand, many of our customers have built up an entire business based around a ribbon printing service alone!


The best ribbon printer on the market
The ZX-40 Ultra is much faster than it's rivals, thanks to it's huge 8MB SDRAM (4x more than others) and 4MB Flash ROM (at least double that of others).

Coupled with a new modern backlight LCD display and four modern LED function buttons, you know that what you have here is something that stands out head and shoulders above others. Despite these many outstanding features, we are very competitively priced ... and you also get more with your printer. Basically, with CPL, you are in a win-win situation!
By using this site, you agree we can set and use cookies. For more details
of these cookies and how to disable them, see our cookie policy.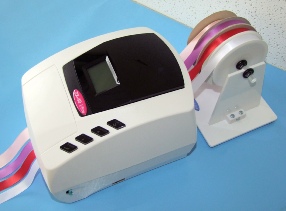 FREE
External Ribbon
Holder worth
£29.99+VAT!
Save money and time by printing several ribbons
in one go!
Multi-print attachments
We are probably the only company in the world that can offer you a
wide range of inexpensive multi-print attachments immediately from stock.
Multi-print attachments enable you to feed and print several ribbons through
the ZX-40 Ultra Ribbon Printer at a time. This helps you to save on time and foils!
You can even print different width ribbons with different text!
We can also custom make them for you depending on your preferred
configuration. Because we have invested thousands of pounds in modern
technology, we can often custom make these for you within 2 working days!
Low cost multi-print attachments
from Creative Printers of London
Your can also print
LOGOS & IMAGES too!
Print ribbons in English
or any other language!
Save money!
Use narrower foils for narrow ribbons and wider one for wider ones (or use them with multi-print attachments)
It's easy to make money from
printing ribbons with our ZX-40 Ultra
Copyright 2013 Creative Printers of London

We ship our ribbon printers to anywhere in the world. Apart from our domestic market, we have sold our ribbon printing machines around the world, including Australia, New Zealand, USA, Canada, Mexico, Brazil, Russia, Greece, Thailand, China, Japan, India as well as countries in the Middle East and Africa.

Our ZX-40 Ribbon Printer is also very popular throughout Europe including France, Spain, Portugal, The Netherlands, Belgium, Sweden, Norway, Ireland and many more countries.

The ZX-40 has taken the world by storm and probably continues to outsell any other printer on the market. This is thanks to the latest technology deployed which makes it faster and produce consistent high quality results. When searching for a ribbon printer, you are more likely to come across the famous ZX-40 Ultra than any other printer on the market. This is a testament to it's prestige and quality and availability at an affordable price.