ZX-40 Ultra, The world's favourite Ribbon Printer
Part of Creative Printers of London (Est. 1986)
Freebies!
No one gives you more!
Yes, when you purchase any of our ZX-40 Ultra Packages, you will receive two additional items totally free of charge:-

External ribbon feeder worth £29.99+VAT

An external ribbon feeder is extremely useful when using larger spooled
ribbons which would otherwise not fit inside a machine. Buying ribbons in a larger spool can also potentially save you money over smaller spooled ribbons.
The External Ribbon Feeder is also useful since some ribbons may have a smaller diameter core which would not otherwise fit inside a machine - once again, our unique external ribbon feeder overcomes these important issues.

The external ribbon feeder is also very useful when printing onto vinyl as the entire vinyl roll can be located on this device and fed through the machine without having to cut the vinyl into individual strips.


Multi-print attachment worth £4.99+VAT
This clever device allows you to print several ribbons - all at once - even with different messages! The benefits are clear:-

* Save on foil costs as there will be very little waste
* Save on time - get more jobs done at once.

You get one multi-print attachment free with our ZX-40 Ultra Ribbon Printer and you can purchase additional ones at any time for varying sizes of ribbons/combinations. The multi-print attachment sits inside the machine and the various ribbons are fed through the slots, ready for printing. To see this being demonstrated please advance the video play below to around 3 minutes and 54 seconds.













Our low-cost multi-print attachments are very
popular for printing several ribbons at a time!!

This not only saves you time but also money
as you will end up using less foil.

We have a wide range of stock multi-print attachments which will accept different sizes of ribbon at a time. Infact, we are the only company that can create a custom made attachment for you, based on your specific needs - no one to our knowledge offers this unique service. The prices for custom made attachments will vary from our standard
'off the shelf' ones, please enquire.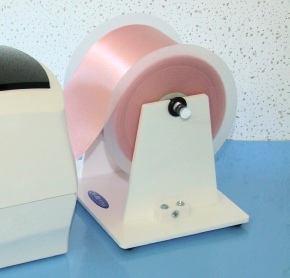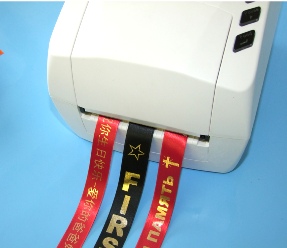 HOT FOIL PEN
This Hot Foil Pen Starter Kit is for the paper crafter who loves a little glam! Write out gilded messages easily with just a metallic sheet and this clever foil pen! Simply place the foil over the top of your cards or paper and just start writing!
Cordless for convenience with a thick tip for coverage, use this pen freehand or with stencils to create beautiful foil trims for your scrapbooks, cards and tags. Switch on, let it heat up and use the Hot Foil Pen to start gilding your crafts. Make sure that the metallic side is facing upwards so that it adheres to your surface.
As you write, the pen has a small light guide to help you design with care, allowing you to be as detailed as possible.
The foil pen works well with die-cut stencils, plastic stencils (ensure it is heat-resistant), metal rulers and various templates.
The pack contains up to 20 sheets of foil in different colours so that you can experience the full-effects of this beautiful tool!
Requires three AA batteries (not supplied)
Includes cover
Sheet size: 15 x 10 cm (6 x 4 inches)
Heats up easily
Includes 20 foil sheets

* Stencils not supplied
FREE Hot Foil Pen + Foils

PLUS
get a Free External Ribbon Holder worth £29.99+VAT
and also a FREE Multi-Print Attachment worth £4.99+VAT
for printing several ribbons at once
This short 6 minute video will take you through from creating artwork within our full graphics package, adding designs, using the above FREE external ribbon feeder as well as the FREE multi-print attachment!